Giselita is a character in the Open Season franchise. She is one of Elliot and Giselle's daughters, Gisela's younger sister, Elvis' older sister, and one of Boog and Ian's nieces.
Biography
Giselita is one of Elliot and Giselle's two daughters.
Not to be confused with her sister Gisela, Giselita has brown eyes and a black nose.
Beginnings
Coming soon!
Coming soon!
Personality
Giselita is friendly, nice, caring, intelligent, adventurous, energetic, fun-loving, level-headed, and sometimes a bit sassy and sarcastic. She can devise good plans when necessary.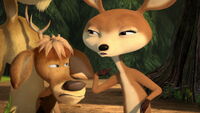 Giselita tends to tease her brother Elvis sometimes, but still loves him nonetheless. One example is when he loses his left antler after the rabbit fight, Giselita laughs about it and tells an annoyed Elvis that their mother is going to be furious with him whilst performing the cutthroat gesture, with Elvis' excuse being that he was "attacked by a ferret" (a lie that his father told him).
She is also quite mischievous.
Appearance
Giselita is a deer. She has brown eyes and a black nose.
Quotes
"(When Gisela guesses the rabbit fight is over) Pretty much."
"Dad. Let's just play, okay?"
"(When Elliot and Elvis scratch themselves in a poison ivy bush) That has gotta hurt."
"What's a dough problem?"
"We just, uh... got here?"
"No. I can't see him from here. We need to get to higher ground. Like that."
"Ugh! Where are you, Uncle Boog?"
"(Gasps) Uncle Boog! Whoo-hoo!"
"(To Elliot, pointing down) Uncle Boog is right there!"
Trivia
It is unknown how old Giselita is.
Gallery
References